Master your Ocean Transportation
ON DEMAND WEBINAR
10 Obstacles your Maritime Logistics Team is Facing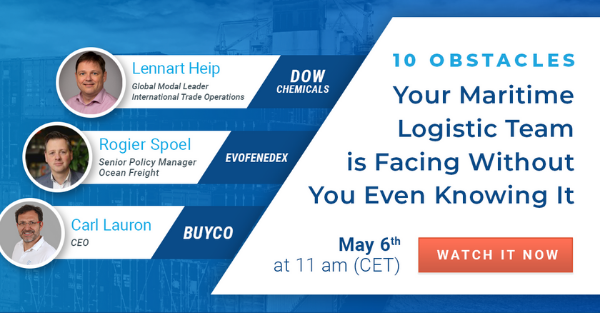 Vessels schedule reliability has dropped by 43% over the last 3 months, creating dramatic frictions for logistic teams. On a daily basis, maritime supply chain operational teams face challenges that hinder their productivity and the current situation will reinforce this pressure.

Supply Chain Directors are not always aware of these challenges because they are not directly involved and may not see the difference between how things should be and how they actually are.

For example, as a Supply Chain Director, you negotiate EDI digitized operations with your ocean carriers. You may think that your teams benefit from full digitalization, but in reality, hundreds of emails are still sent to carriers and freight forwarders to align on cut-off dates or the Bill of Lading.

These occurrences keep the booking process highly labor-intensive. This is just one of the many possible pain points your operational teams face, that you can solve.
In this webinar, you will learn:
What the main operational challenges are, based on real life observation on the field

How Supply Chain Directors can identify these issues in their organization

How you can provide solutions to overcome these challenges